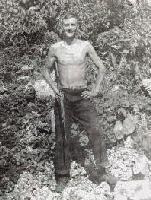 Today is September 7, 1999. I mention this to give the reader some perspective of my state of mind as I try to recall the events that occurred during the waning months of 1944, almost 55 years ago.
We left San Francisco the day before Thanksgiving in 1944, detoured to Pearl Harbor and lingered there for a week or more. Finally, a convoy was assembled and we set sail westward, still unaware of our destination. Again, we settled down to a routine of boredom, ennui, utter monotony.
One of the reasons I mentioned the 55 years that have passed since these events took place is because I canít recall which came first, New Guinea or the Admiralties. For this narrative, I am going to rely on a failing memory and say that we proceeded to Hollandia, New Guinea.
The voyage was uneventful, no torpedoes, nothing but the endless sea, convoy ships all around us, the monotonous zigzagging which must have doubled our mileage. For the troops, it was more of the same we had experienced between Frisco and Pearl, more cards, checkers, chess, craps, reading and re-reading the scant materials aboard ship, sleeping, and the constant gazing out on the broad expanse of the Pacific Ocean, wondering what was happening on the home front, wondering where we were bound, whether we would ever get home again. Eventually we reached Hollandia and there we stayed for over a week. It seemed like a month but time does pass slowly when the living space consists of bunks stacked 18 inches apart, and the exercise area is smaller than your family room.
One morning, early, we were rudely awakened by a terrific blast of sound that seemed to shake our ship from stem to stern. Every sailor in our quarters hit the deck and headed for the ladder. The ladder, a Navy term, was a stairway about 10 feet wide which lead to the main deck. If our ship had been hit by a torpedo, we surely would have all died for we met at the foot of the ladder and created a human logjam. Eventually we all broke free and made it topside with very few injuries. Actually, I remember two explosions but some said there was a third. One of them bounced off a ship, so we were told, before running aground. No ships were damaged, by a miracle. I knew nothing about torpedoes and cannot explain why the torpedoes detonated but caused no damage unless they all ran aground and exploded.
We were not permitted shore leave so all we could do was stare at the black natives on the distant shore. From what we saw of them, we were just as happy to remain aboard ship. Finally we set out to sea again and made our final stop at the Admiralties. I donít know why. I donít remember the other ships in the convoy at this point in time so it may be that we waited there for another convoy. There was no pier, so we anchored off shore and sat for several days. It was a beautiful beach, like you see in one of the Bing Crosby movies but again, we were not allowed to leave the ship.
Once more we got underway and this time we made it to Leyte. By this time we were getting a hint of where we were going and we didnít think much of it. I forgot to mention that in Hollandia we had picked up a bunch of Seabees and they regaled us with stories of where they had been and what they had been doing. Guadalcanal, Tarawa, and other names I have forgotten. It didnít make us feel very optimistic to know that we were now in the company of battle veterans heading for what? More battles?
By now the rainy season was at its peak in the South Pacific.
Then came our Lieutenant Commander Ciaverelli to tell us to pack our gear and prepare to transfer to an LST which had come alongside. The transfer was made in a cold rain and we were soon soaking wet. It was the South Pacific but the wind was chilly and we were all soon chilled to the bone. Except for the officers. They were warm and dry somewhere in a cozy room while we were exposed to the elements in the well of the LST. Eventually it was chow time and we were permitted into the chow hall for sustenance including some hot coffee which we needed more than anything.
After chow, we were removed outside again into the rain and the wind. In the Philippines, the rain starts sometime in the late fall and continues almost without cessation until late spring.
After what seemed to be an eternity we reached our final destination, Guiuan, Samar. What a disappointment! Native shacks with thatch roofs, windows but no glass, many of them built on stilts.
There were a few businesses but they looked identical to the houses. The only respectable building that I recall was the Catholic Church which was built of stone.
We marched from the LST through Guiuan to a row of tents which would be our home for a month before we moved to our permanent residence about four miles out of Guiuan. The march is also something I remember because of the rain and the flooding conditions along the road. The memorable part was due to foxholes that had been dug along the roadside by someone, whether Japs or Americans, I never knew and it is not important now. However, they were there but we couldnít see them because of the flooding conditions I mentioned. The result was that from time to time someone would step into the unseen pits and disappear for a few seconds which elicited howls of laughter from the luckier among us. Fortunately, I managed to avoid the pitfalls.
When we reached our tents, our first order of business was to strip down, grab a towel and dry off our chilled bodies. We should have gotten pneumonia from the exposure but none of us did that I can remember.
Next, we opened a crate, one of which was assigned to each of us, and it was just like Christmas. In each crate was a poncho and pith helmet which would have been SO NICE for the last 6-8 hours. Also a 30 caliber carbine with appropriate ammo, a canvas cot, a mosquito net with a frame that mounted on the cot, a first aid kit, a carton of cigarettes, some chocolate bars, and other stuff I have long since forgotten.
So, dressed out in all our finery, we were escorted to the local chow hall by an SP and experienced our first chow on Samar.
I canít remember the exact menu but it didnít change much from one day to another. This one may have been canned beef stew or Spam, rice, bread, butter (?) powdered milk , and other unmentionables that came out of a can or from a powder mixed with water. The butter? It was a dark yellow and when you tried to spread it on a slice of bread, it tended to roll up as you moved the knife over it. It was so much like rubber that we swore it would bounce if you dropped it. Many months later, when we returned to the "old country", our first request was for a cold glass of real milk.
When we left the chow hall, the natives were lined up to clean the scraps from our trays before we could scrape them into the garbage cans. They carried old coffee cans, the gallon size, and didnít seem to mind if the scraps were all mixed together. Those people were HUNGRY. Back to our tents we settled down for the night, listening to a military radio station located in Leyte, dry, warm, our bellies full, we were at HOME.
Not quite.
We had one more move to make to our Quonset hut where we would live for the next year.