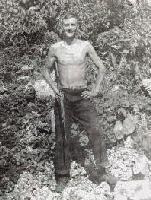 We left San Francisco in late November, one or two days before Thanksgiving, aboard a troop transport named the Robin Doncaster, a passenger liner in peacetime. Years later I learned that there was (is? ) a prestigious enterprise known as the Doncaster Lines. I donít know how many troops were aboard but I might guess somewhere between 3,000 and 5,000.
Now the odd thing about that troopship and those troops was this The crew was Army, the troops were Navy. Yes, indeed, the entire crew, including the Captain, was Army. Another odd thing about this crew WAS the Captain whose name was ROMMEL. If that name sounds familiar, it should, because it was the name of the most respected, most feared General in the German Army who was also known as THE DESERT FOX. I cannot vouch for the truthfulness of this claim, but it was said that our Captain was a cousin of General Rommel and that he was called or perhaps liked to be called The Sea Fox. I believe this information was broadcast on the loudspeaker system but my memory is vague on this.
I was one of the troops along with some buddies who shipped out with me from Charleston, South Carolina via San Bruno, California. Between Charleston and San Bruno, we (about 20 of us with a CPO in charge), had our own private Pullman sleeper. The beauty of this arrangement was this - Our Chief was amenable to our requests that we stop over in each city where we thought the liberty might be rewarding either in terms of booze or women. Women, of course, was our main objective. But this is another story. As I said, we left San Francisco, not knowing where we were going, but happy to be going somewhere, after having been stalled in San Bruno for weeks. The San Bruno stopover was to give us some amphibious training.
On Thanksgiving Day, we Yippie sailors had a ball. Most of the troops were complete novices on the high seas and began to suffer from seasickness soon after we passed under the Golden Gate Bridge. Yippie sailors, on the other hand, had been to sea on small, converted shrimp boats for months, boats which bobbed on the surface of a number three sea like a cork in white water.
On a troop ship the mess hall consists of mess tables about chest high, no chairs, no benches, nothing to sit on. Troops stand up to eat their chow, at least they did then. So, on this memorable day, and I have never seen another like it, we Yippie sailors were wolfing down our chow while all around us green sailors were barfing up their insides. The shipís movement had no effect on us, in fact, this huge ship was like stable ground to us. Say what you will about Navy chow, but on the holidays they always put out a great meal and this was no exception.
So, as quickly as we Yippies finished our own trays, we felt free to move on to the untouched food of one of our more unfortunate brethren. In fact, we even helped them along on their way to misery by laughing and uttering such phrases as "Boy, donít that turkey gravy seem awful greasy to you?". Any mention of grease to a seasick sailor seems to precipitate his queasiness as I found out in my early days on a Yippie boat. We always gave them good advice, too with such gems as, "If you have to toss your cookies, you should be careful as you barf. Keep barfing until you taste something hairy but be sure to swallow that because thatís your a--hole!"
Well, thatís how we got our fill on Thanksgiving Day, 1944. We didn't know it then but it would be many months before we had such a delicious meal again. When we disembarked in the Philippines we were destined to live on Spam, canned beef stew, synthetic eggs and butter, powdered milk, and other artificially prepared foods, perhaps nourishing but hardly palatable.