Return to All Gave Some-Some Gave All

Remembering
Gale Herbert Felver and Larry Eugene Yoder
by Doc Gardner - June 2009

These two FMF Corpsmen shown below were classmates of mine in HM School and FMF School.
They will be remembered for as long as I am alive.
Rest in Peace, shipmates
GALE HERBERT FELVER

HM2 - E5 - Navy - Regular
Length of service 2 years
Casualty was on Jul 29, 1966
In QUANG NAM, SOUTH VIETNAM
HOSTILE, GROUND CASUALTY
OTHER EXPLOSIVE DEVICE
Body was recovered
Panel 09E - Line 86

The information is re-printed from
The Vietnam Wall Memorial website.

Gale Felver was a Corpsman with 2nd Bn, 9th Marines and was KIA on July 29, 1966. He took a patrol so that his fellow Corpsman could have the day off to rest up.

It was his last patrol as he stepped on a mine while rushing up to treat a fallen Marine.

Gale (known as Stormy to us) was my classmate at HM A School in 1965; he served at the Philadelphia Naval Hospital prior to being sent to FMF.

Stormy is buried in Rahway, NJ (his hometown).

I used to correspond with his mother before she died and some day I may go to his gravesite to say good-bye.


This photo was sent to me by one of his high school classmates.

LARRY EUGENE YODER

HM3 - E4 - Navy - Regular
Length of service 4 years
Casualty was on May 2, 1967
In QUANG TIN, SOUTH VIETNAM
HOSTILE, GROUND CASUALTY
GUN, SMALL ARMS FIRE
Body was recovered
Panel 19E - Line 20

The information is re-printed from
The Vietnam Wall Memorial website.

Larry Yoder was also a classmate of mine at HM A School and FMF School. From Great Lakes we both went to New London and served together there at the Naval Dispensary. Larry helpd me find my first apartment so my new bride could join me.

We got our orders to FMF (Fleet Marine Force) the same day and were in the same Company at Camp LeJeune. We flew together to Danang where Larry joined Lima 3/5 (3rd Bn 5th Marines). Larry was KIA on May 2, 1967 by a sniper as he went to aid a fallen Marine.

For years I have tried to locate his family so that I can visit his gravesite but have been unsuccessful. I know they were from Latrobe, PA but internet inquiries have proven unsuccessful.

Unfortunately the only photo I have of Larry Yoder is our group graduation photo from HM ďAĒ School.

A little history about how we met.
I qualified on USS Skipjack SSN 585 after going on active duty out of the Reserves in Detroit.
While aboard Skipjack I shipped over for HM school and attended from May 1965 to Sept 1965. That's where Gale, Larry and I all met and were in the same class.
Then, while assigned to the New London Submarine Base Hospital I passed my tests for HM2 and was planning on returning to submarines as soon as I was promoted. However, I got my orders to FMF prior to that and went through Field Med Training at Camp LeJeune, NC.
From there I went to Third Marine Amphibious Force HQ in Chu Lai, Viet Nam.
III MAF was a support group and I had the opportunity to do a number of things including being sent to 1/5, 1st Bn 5th Marines in Tam Ky, 2nd ROK Marine Brigade (Koreans) in Binh Son and one patrol on a Swift Boat out of Chu Lai.
The rest of my tour (Nov 1966 to Nov 1967) was spent in various duties at 1st Hospital Co, "B" Med Battalion Aid Station and ferrying medical supplies by convoy and chopper to Marines in the area.
Upon return from Viet Nam I returned to submarines and went to NucMed and SubMed in New London. Then got my orders to USS Theodore Roosevelt SSBN 600 Gold. I did 4 patrol on Roosevelt and left the Navy to attend college back here in Michigan.
Fred (Doc) Gardner
HM1(SS) / FMF

Click for larger image
Use back button to return here
There were about 40 of us in the class but only five or six of us went to Viet Nam, to my knowledge. Larry, Gale and two other guys are standing next to each other in the photo.
Two (of the six) were KIA, and two were WIA.
Standing in a different section of the photo are myself and the other guy who went to Vietnam and we came back unscathed, physically anyway. Only God knows who gets picked.
Yoder is 3rd from left in the 4th row. Count the nurse as the first row and then go up 4 and the guy with dark hair is Yoder.
Then starting with Yoder move 3 to his left and you will see Felver (KIA), John Devine (WIA) and Lou Beck (WIA)
The only other guy from our class, other than me, that went to Viet Nam (to my knowledge) was Charles Lindsay. He is in the 2nd to the last row - first on the left side.
Iíve stayed in touch with Lou Beck (he was with 2/7th Marines) and has a successful medical supply business in Ohio.
Itís odd that the 4 who are standing together were killed or wounded and the two who are apart came through the full tour with no wounds.
Go figure.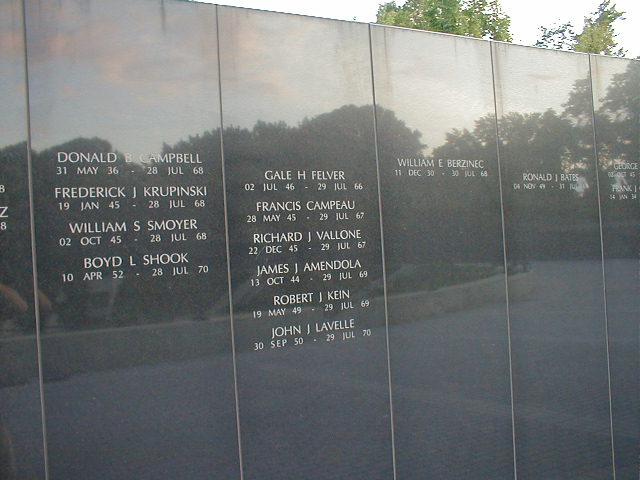 The Wall - Washington D.C.

FYI RE: The class picture: Iím all the way to the right side of the photo in the first row; I was class Adjutant so I got to stand up there with the big guns.

Doc

TOP