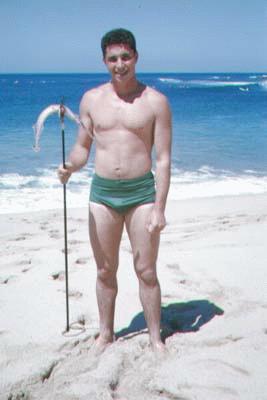 A very good friend, James F. Phillippi SOS2(SS), was aboard the USS Thresher (SSN-593), when she went down on April 10, 1963. Jim and I grew up together in Manhattan Beach, California: grade school and part of high school, Cub Scouts and Boy Scouts, plus some hiking and camping trips together. And, we were eight days apart in age -- he was born April 12th, and I was born April 20th, 1941.
In the spring of 1959, just before graduation from high school, I read an article in the newspaper about the USS Nautilus, the first nuclear submarine to go under the North Pole. I decided right then that that was what I wanted to do, so in September of 1959, I enlisted in the Navy under the Nuclear Power Program.
Three weeks into 'boot camp,' my eyes were tested and it was determined that I had a vision of 20/20 in the right eye and 20/25 in the left, uncorrectable with lenses, so I was disqualified from submarine duty. My enlistment was changed from Nuclear Power to High School Graduate, which still guaranteed me a Class 'A' School.
After 'boot camp,' I went to Interior Communications Electrician School, where I graduated as the Honor Man of the class. That distinction earned me a choice of duty assignments, so I chose submarine duty again and received orders for Submarine School in New London, Conn.
In the meantime, Jim had enrolled in the fall semester at the University of California at Redlands. At the end of the semester, he decided that he didn't want to go to college, so he too joined the Navy. At the conclusion of 'boot camp,' a day after I graduated from IC School, he also had orders for Sub School. After leave at home, I flew and Jim took the train, and we both arrived in New London, Conn., on the same day.
Jim passed the physical, but once again, I was disqualified from submarine duty because of the vision in my left eye. While Jim went through Sub School and was eventually assigned to the USS Gudgeon (SS-567), a fast attack sub out of Pearl Harbor, I spent the summer as a messcook in the 'spud locker' in the Base Galley at the Sub Base. On some evenings and weekends, we'd get together for movies, a trip into town, or swimming at Rock Lake -- we had both been on our respective high school swimming teams.
After completing 101 days of messcooking, I was assigned to the USS Glacier (AGB-4), a Navy icebreaker out of Boston. A month later, we headed south for "Operation Deep Freeze" in Antarctica. While down in the ice, we received a radio message that IC Electricians were needed in submarines, so . . . once again, I volunteered for submarine duty.
On the way back to home port, I was informed in San Juan, Puerto Rico, that I'd been promoted to third class petty officer, and upon arrival back in Boston, I had orders for Submarine School again. Fortunately for me, the Hospital Corpsman doing the eye test wasn't checking that closely and I passed the physical! In August, 1961, I completed Basic Submarine School, and after attending Advanced Submarine School - Electrical, I then received orders to report to the USS Menhaden (SS-377) out of San Diego.
In June of 1962, we went to Pearl Harbor to load supplies, then spent two months at sea on a mission in the north Pacific. When we first arrived in Pearl Harbor, we tied up across the pier from the USS Gudgeon. As soon as I could, I went over to see Jim. Unfortunately, the Topside Watch informed me that he had left three days before for the USS Thresher.
In October of 1962, the Menhaden went into Hunter's Point Naval Shipyard in San Francisco for a complete overhaul. At about the same time, the Thresher went into Portsmouth Naval Shipyard, also for an overhaul.
On April 10, 1963, having completed our overhaul and sea trials about three weeks previously, we were enroute from San Francisco to Vancouver, B.C. That day, we received the radio message that the USS Thresher had gone down in the Atlantic while conducting her sea trials.
I still remember laying in my bunk in the After Battery after getting off watch as a Controllerman in the Maneuvering Room. We were running on the surface, rolling slightly, as the waves were slapping against the ballast tanks outboard of my bunk. Many thoughts were going through my mind as I lay there in the dark . . . Had Jim been aboard that day? . . . If so, what were his thoughts at the time? . . . Did he know what was happening to his boat?
I don't remember now how I got it, but in my memorabilia I have the front page of the San Diego Union newspaper, dated Thursday, April 11, 1963, which states in bold letters, "A-SUB LOST WITH 129; SEARCH FINDS OIL SLICK." In it, it lists all of the people aboard, including Jim.
A couple of months later, prior to the end of my enlistment, I was given a "shipping over" talk by one of the enlisted men on the boat, offering me IC "B" School and Nuclear Power School. But, after the Thresher had gone down with my friend, I'd lost my desire to serve aboard a nuclear submarine.
In October of 1965, as a lasting tribute, I named my own son, Jim Carpenter, in memory of my friend, Jim Phillippi. I also recently learned that one of Jim's brothers, Gary, did the same with one of his sons.
Over the years, I have kept in contact with his parents, Mary and Jim Phillippi, Sr. In October of 1993, I visited them. For the first time, I saw their "Thresher" scrapbook -- all of the newspaper clippings, telegrams from the Navy at the time, and even the condolence letter from President John F. Kennedy. It brought a lump to my throat -- and nearly tears to my eyes, again.
Every year on April 10th, I go out onto my back deck. With a cassette tape recording of "Amazing Grace" (on bagpipes) playing in the background, I open a beer, raise it to the sky, then drink in Tribute to Jim Phillippi, my Friend and fellow Submariner.